New Publication: "China's Agrarian Transition: Peasants, Property, and Politics"
by René Trappel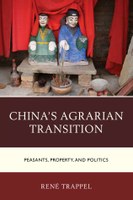 More than thirty years ago the political turn that brought the dismantling of agricultural collectives and exclusive rights to small plots of farmland for rural families initiated a historic return to smallholding in the People's Republic of China. Today, agriculture in China is changing again. In many villages smallholder farming is giving way to large agricultural enterprises.
This book explores this latest transformation of Chinese agriculture. It traces how the peasantry's frustration with the farming conditions, the priorities of national and local political agents and the changes in the management of collective land since the return to family-based farming have paved the way for a unique Chinese agrarian transition. The argument is based on careful analysis of agricultural politics since the early 1980s and data gathered in three field trips to Shandong, Sichuan, and Guizhou Provinces between 2008 and 2010. The findings highlight the importance of institutional path-dependencies and strategic government intervention (or its absence) for economic transformation. China's Agrarian Transition is one of the first comprehensive accounts of the latest developments in agriculture in the People's Republic and will provide a stimulating read for political scientists, sociologists, economists, and experts on China interested in the ongoing transformation of China's countryside.
Reviews
This is a succinct and empathetic analysis of the endless muddling-through of agrarian reforms in China. By placing us in their restrictive yet enabling contexts, Dr. Trappel helps us understand the expectations, frustrations, and hopes of Chinese peasants, rural cadres, government officials, and political leaders.
— Lianjiang Li, University of Hong Kong
China's agrarian society is in the midst of an historical fundamental change. René Trappel's volume captures and illuminates the urgent issues of this transition and adopts the specific and understudied point of view of villagers whose lives are being altered. His careful fieldwork provides the basis for a clear understanding of the struggles facing China's smallholders as they encounter far more powerful actors and economic forces. This volume represents systematic hypothesis testing that applies an historical institutional approach and process tracing animated by extensive first-hand in-depth interviews. His well-supported yet contentious argument contributes tremendously to the debate on how to understand the problems that result from the myriad changes to institutions structuring agrarian and rural life. In short, this volume is a must-read for any China watcher interested in considering the winners and losers of China's great agrarian transition.
— John A. Donaldson, Singapore Management University
This book offers an exciting new perspective on the forces transforming rural China. Based on a wide range of sources—from interviews to central government documents to rental contracts between rural households and companies—René Trappel convincingly uncovers the many structural factors presently leading to the commodification of farmland without actual privatization. The main argument of the book cuts to the heart of the debate about how we should interpret the recent past, present, and future of Chinese agriculture and rural society. Lucidly written and carefully argued, this book is well suited for undergraduate and graduate courses on rural China.
— Stig Thøgersen, Aarhus University
For more information please click here.